Tags: Virtual Reality, VR, Uitje Breda
Nieuw in Breda: The Park Playground
Zou jij het liefst ook eens willen deelnemen aan Wie Is De Mol? Of als een SWAT-Team een bankoverval oplossen? En wat dacht je van een bom onschadelijk maken of vechten tegen zombies? Bij The Park Playground kan dit allemaal!
Een onvergetelijk avontuur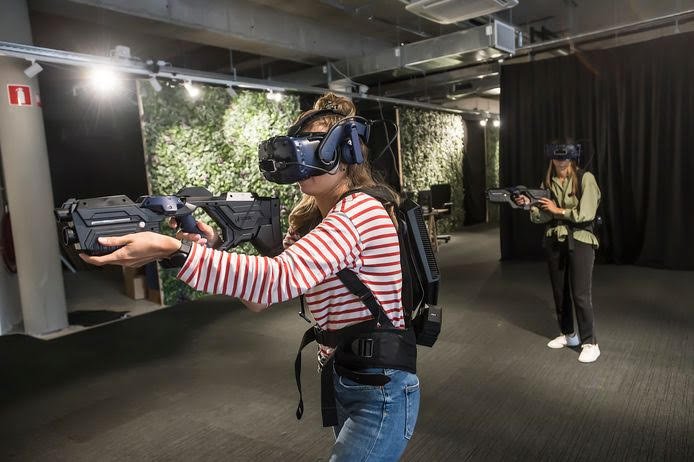 Sinds 5 september is The Park Playground te vinden aan de Keizerstraat 1, middenin het centrum van Breda. Een ideale locatie! The Park biedt Virtual Reality Experiences aan voor iedereen die hier in geïnteresseerd is en de spellen zijn geschikt om te spelen vanaf 12 jaar.
Grijp je VR-Bril, geweer en backpack en waan je in de wereld van VR. De game gaat verder dan alleen Virtuele Realiteit, elke keuze die je maakt heeft invloed op het verdere verloop van de game. Dit zorgt voor een uniek scenario. Je gaat samen met je team de uitdaging aan en steunt elkaar door jullie eigen verhaal.
Niet zo'n fan van geweld? Geen probleem! The Park biedt vier verschillende soorten belevingen. De nieuwste experience De Mol is, zoals de naam al zegt, gebaseerd op het televisieprogramma. Je waant je samen met je groep in Nieuw-Zeeland. Een persoon zal worden aangewezen als de mol en moet proberen om de opdrachten die je gaat doen te saboteren. De anderen proberen zoveel mogelijk geld te verdienen en de mol te ontmaskeren. Een hele leuke activiteit voor zowel vrienden, families als bedrijven.
Na de game van 60 intensieve minuten plof je neer in The Lounge waar je gelijk je teamresultaten en herhalingen van de leukste scenes kan bekijken. De hosts verwennen je met alle plezier met de lekkerste hapjes en drankjes.
Bovendien krijg je de hele maand september 50% korting op deze gave ervaring! Ben jij net zo enthousiast als ons en wil je kaartjes bestellen dan kan dat hier.